Xbox 360 to PS4 Super Converter
Use your wired Xbox 360 controllers with your PS4
- Support play PS4 Games on PS5 -
Overview
Brook Super Converter series makes old controllers compatible with new consoles. This particular model, the Xbox 360 to PS4 Controller Adapter, lets you use Xbox 360 controllers such as gamepads, dancemats, joysticks and racing wheels with PS4 game consoles and PS4 on PC.
This not only saves you money but also means that you can use the controllers you have grown accostumed to. Installation and use of the Xbox 360 to PS4 Controller Adapter is effortless.
New functions
Super converter releases a new function to offer your controller a simulated touchpad button of PS4 controller.
Xbox 360 controller: Use the "Back" button and the R stick to simulate the touchpad button.
Another new function is to simulate the "Share" button.
Xbox 360 controller: Use the "Back" button and the "Start" button to simulate the "SHARE" button.
Touchpad Emulate
After firmware V2.4, this product support more of the following touchpad simulations:
Back + L3: original touchpad emulation,Back = TP Key (Easy Mode)
Back + R3: new touchpad emulation (Full Mode)
Easy Mode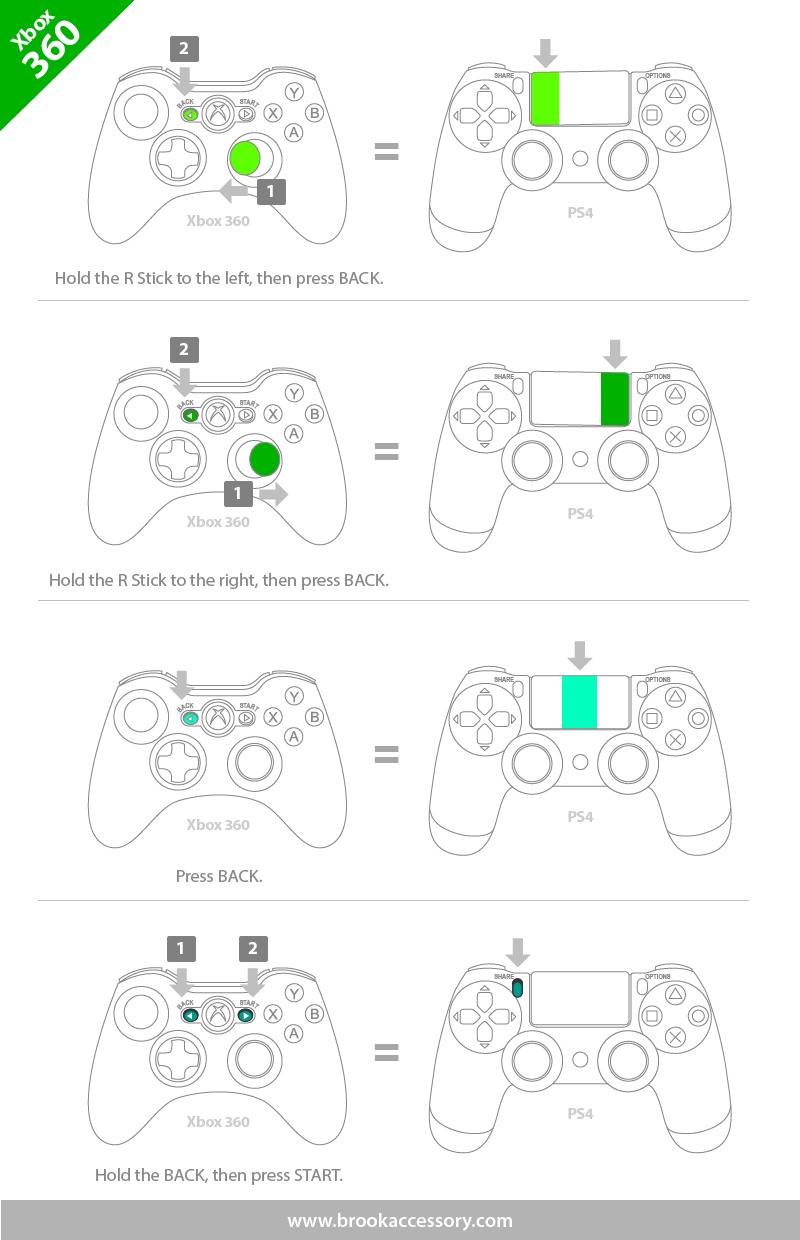 Full Mode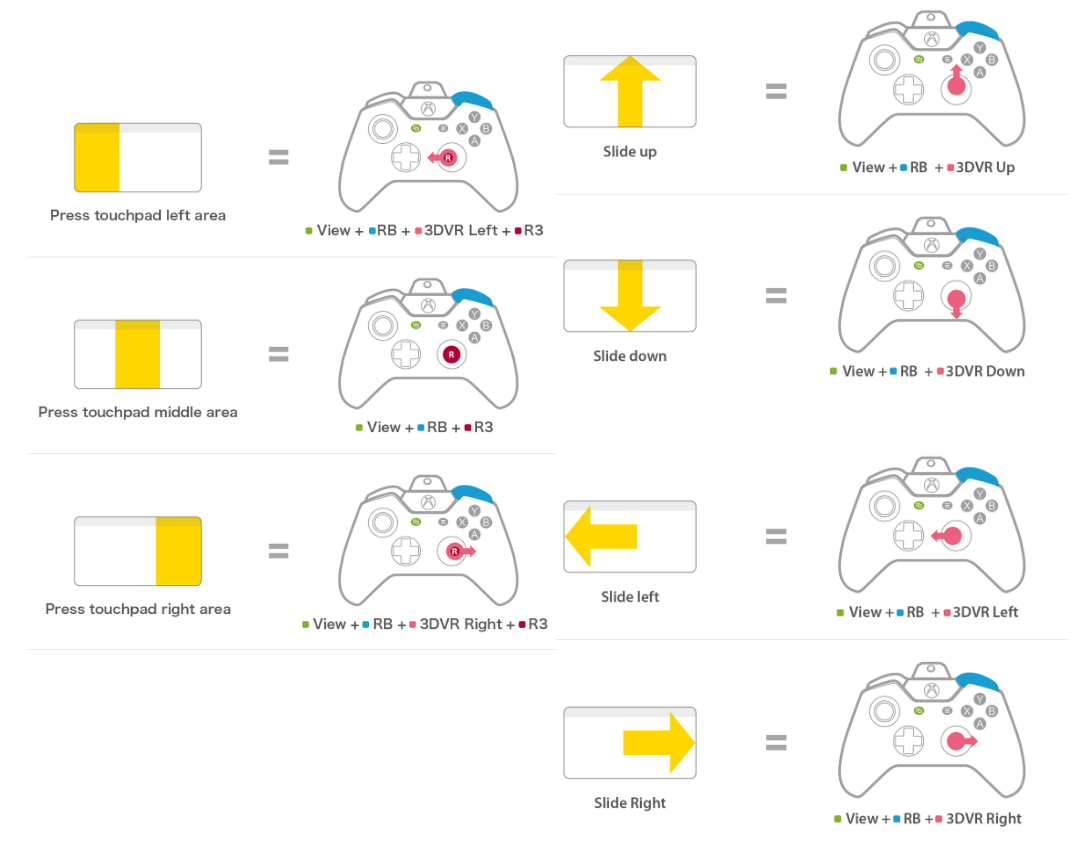 Button Configuration
The Brook Controller Adapter recognizes Xbox 360 controllers and Xbox 360 steering wheels and automatically configures all buttons as shown in the map to the right. No switching is required.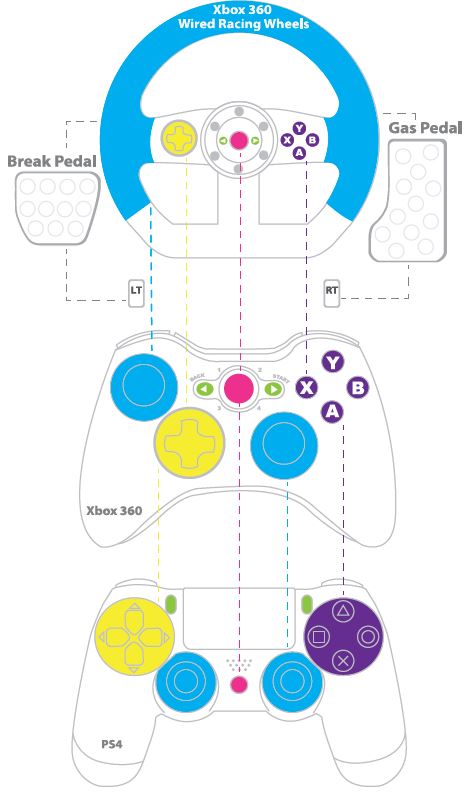 All key functionsmap perfectly!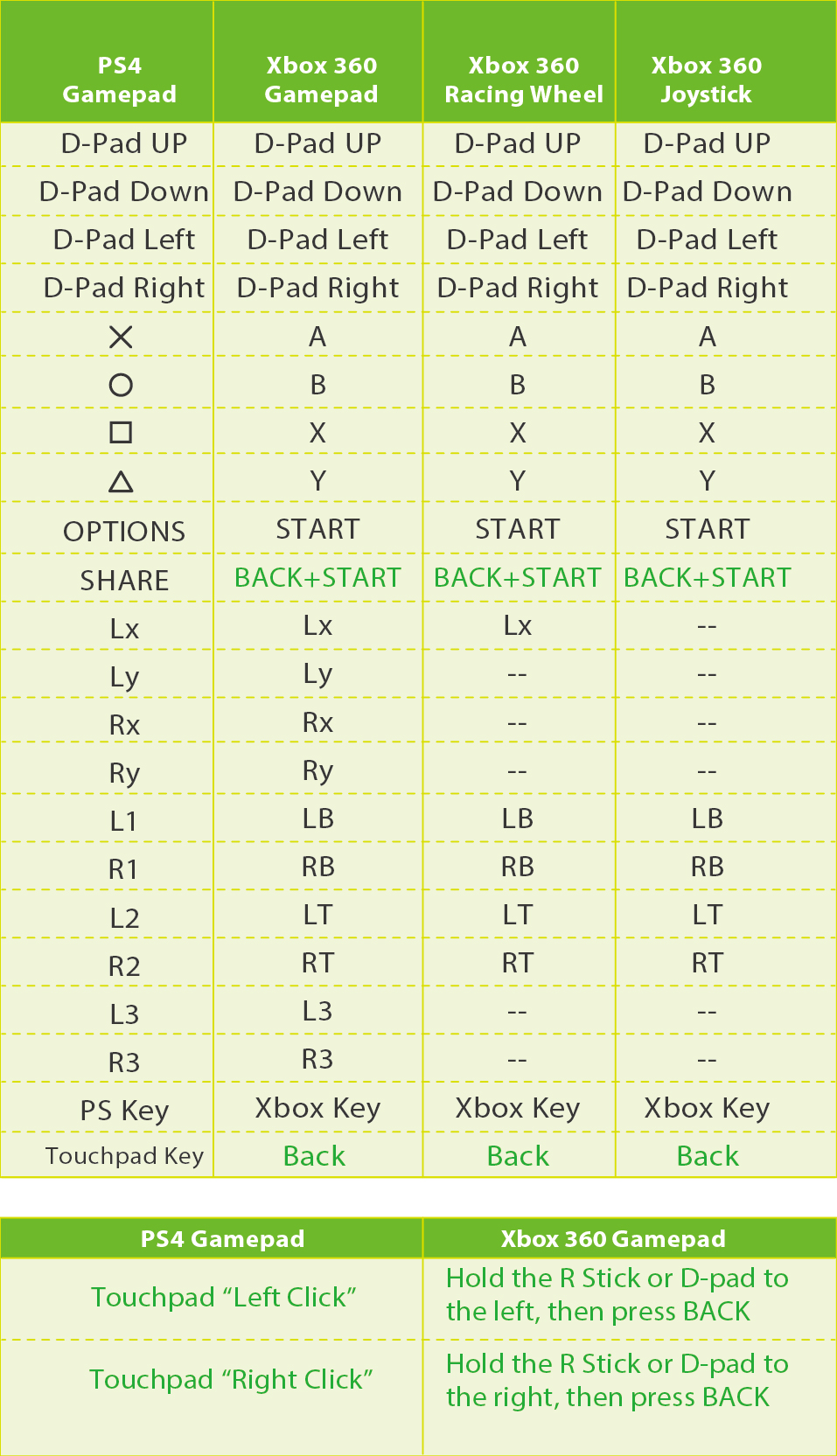 Disclaimer
Each Brook Controller Adapter can only handle one Xbox 360 controller at a time.

Xbox 360 controllers connect to the Controller Adaptor automatically, but must be connected with a USB cable at first time use for the purpose of registering the controller.

For use with a PC running on Windows 7 please install the original Xbox One driver from Microsoft. Older operating systems are not supported.
Compatibility
The list below indicates the controllers/sticks/wheels that have been tested to be compatible or not compatible with the converter.
For those controllers/sticks/wheels which are not listed indicates that they have not been tested yet.
Go to Contact Us for assistance or suggestion.
Compatible:
ACTIVISION:Canberra

ACTIVISION:DJ HERO

ACTIVISION:GUTAR HERO

Afterglow:Xbox 360 Wired Controller

Akishop:PS360+

HARMONIX:Rickenbacker 325

HORI:Blazblue stick

HORI:Fighting Stick VX

HORI:STEERING CONTROLLER

HORI : Fighting Edge 刃 for Xbox 360

HORI:HORI STREET FIGHTER IV STICK

HORI:Xbox 360 Real Arcade Pro.EX SA

HORI:Xbox 360 Real Arcade Pro.VX SA

HORI:Xbox 360 Real Arcade Pro.VX SA改

HORI:Fighting Stick EX2 (XBOX 360)

HORI:RAP VLX Premium

HORI:RAP VLX Diamond

HORI: XBOX 360 SOUL CAIBUR 4 FIGHTING STICK

KONAMI:Dance dance revolution

Microsoft:Wired Controller

Mad Catz:Arcade FightStick Tournament Edition

Mad Catz:Mad Catz Ultra Street Fighter® IV Arcade FightStick™ Tournament Edition 2 for Xbox 360

Mad Catz:Arcade FightStick PRO for Xbox 360

Mad Catz : WWE All Stars Brawl Stick for Xbox360

Mad Catz : Street Fighter X Tekken - Arcade FightStick PRO

Mad Catz : Street Fighter iv madcatz fight pad for 360

SCUF: PROFESSIONAL CONTROLLER FOR XBOX 360

QANBA:Q4

Qanba:Real Arcade Fighting Pro Joystick

Razer:Atrox

THRUSTMASTER:Ferrari 458 Racing Wheel

KDIT:King Snake 2014

Joytron: Paewang Revolution

Mayflash:Arcade Fightstick F300 for PS4 /PS3 /XBOX One/ XBOX 360/PC

PDP:Marvel vs Capcom 3

Phreak mods:

Cerebus mod

PowerA:FUSION CONTROLLER FOR XBOX ONE
Not Compatible:
PDP:Mortal Kombat X Fight Pad for Xbox One and Xbox 360

HORI:TEKKEN 6 WIRELESS FIGHTING STICK

Phreak mods:TEasy Mod

Phreak mods:TEasy Strike

Hitbox :Hitbox (PS3/XBOX360)

Mad Catz:Street Fighter X Tekken V.S. Edition

Microsoft:Xbox 360 Wireless Gaming Receiver For Windows.

Microsoft:Wireless Racing Wheel