Brook Fighter Chameleon   (Made in Taiwan)
Extension of
you fighting soul !
Order made a personal arcade controller with high quality and selectable customized parts is no more a dream.

ORDER HERE
Hardcore frame
Brook offer 2 colors: White and Black as your basic frame, all made with Painted metal, anti-sweat, anti-corrosion. The device has a low center of gravity with a large area anti-slip pad on the base. You can safely play with it on your knee or table.
Cool Push Button
Our basic button is Sanwa OBSF-30. If you need transparent OBSC-30 or silent HBFS-G3, don't worry, Brook can handle them!
Maniac Joystick
Sanwa JLF-TP-8YT is trustable and accurately, however, you can still let it become silently - just try our upgrade parts!
Original Panel Graphic
•
Brook understand that your taste is unique.
In addition to the normal color version, we offer a monochrome version.
•
Of course, you can use any cool graphics as your personal panel.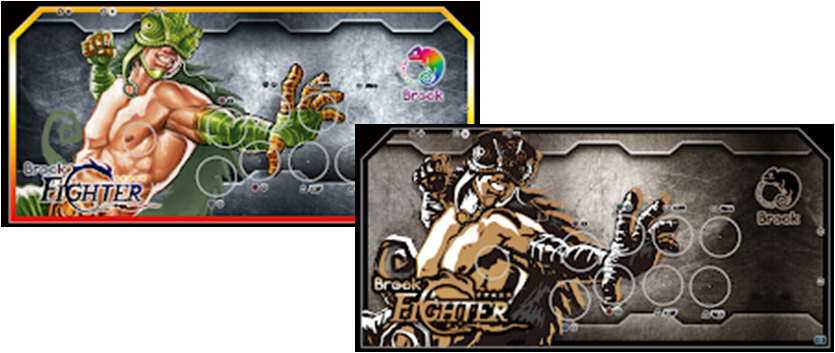 Replaceable parts
Even so, we understand it's not enough. The configurations of Brook Fighter Chameleon can be changed according to individual needs. How about a wooden Fighter ball?
Support multiple platforms
One Brook Fighter Chameleon! Unlimited platform!
Just bring the extension of your fighting soul, and conquer all of these platform!
Cooperation
The Brook Fighter Chameleon is co-operated by two professional companies to present you with the highest quality.
Basic Specifications
System board:
Brook Universal Fighting Board
Frame material:
Metal (Painted metal frame, anti-sweat, anti-corrosion.)
Joystick: Sanwa JLF-TP-8YT
Button: Sanwa OBSF-30
Panel graphic: Chameleon Man
Removable shaft: Plot Shaft