Overview
You can use your favorite Xbox Series X|S (wired use) / Xbox360 / XboxOne controllers on Switch.
It not only saves your budget, but also much easier for you to play. Connect the converter with your controller, plug into Switch, and enjoy it!
※V1.0.13 update
Support Xbox Series X|S controller(wired use)
Button Configuration
Xbox360/One to Wii U/Switch Controller Adapter automatically recognizes Xbox Series X|S (wired use) / Xbox360 / Xbox One controllers for use on

Switch

.

No toggling is required.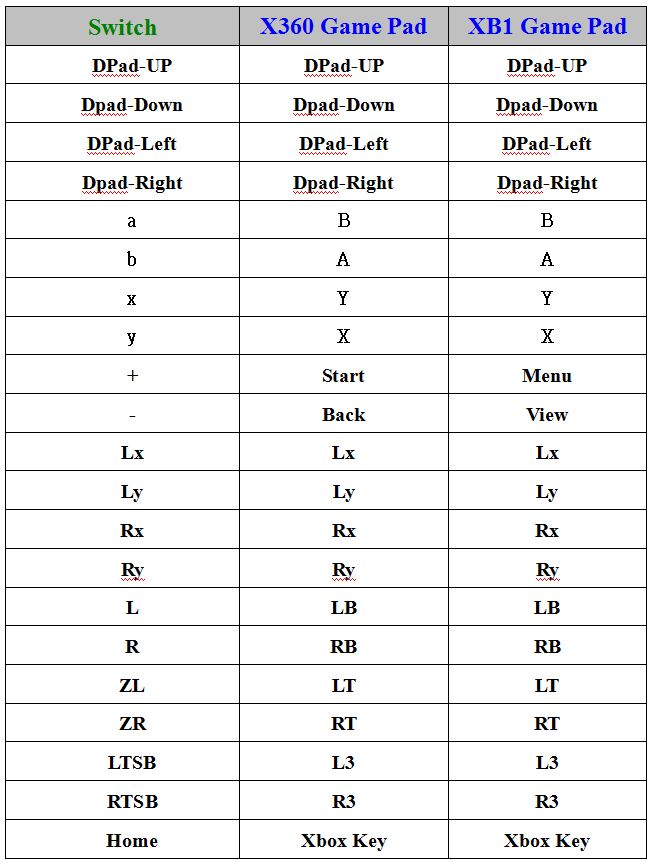 Disclaimer
Each Brook Super Converter can only handle one wireless Xbox360/XboxOne controller at a time.

The converter is not compatible with PC.

On Switch, go to System Setting è Controllers and Sensors, and turn on Pro Controller Wired Communication before you can use it.
Compatibility
The list below indicates the controllers/sticks/wheels that have been tested to be compatible or not compatible with the converter.
For those controllers/sticks/wheels which are not listed indicates that they have not been tested yet.
Go to Contact Us for assistance or suggestion.
Compatible:
BD&A:POWER A FUS1ON Tournament Controller for Xbox one

HORI:Xbox 360 Reak Arcade Pro.VX SA

HORI:Fighting Edge 刃 for Xbox 360

HORI:Blazblue Stick

HORI:PRO.V 隼 [XBO-004]

HORI:HORIPAD for Xbox one [XBO-001]

HORI:Soul Calibur 4 fighting stick for Xbox 360

Joytron:Paewang Revolution

KDIT:King Snake Metal Arcade Fight Stick 2013

KDIT:King Snake Metal Arcade Fight Stick 2014

MadCatz:Mad Catz Ultra Street Fighter® IV Arcade FightStick™ Tournament Edition 2 for Xbox 360

MadCatz:Arcade FightStick Tournament Edition 2

MadCatz:Arcade FightStick PRO for Xbox 360

Mayflash:Arcade Fightstick F300 for PS4 /PS3 /XBOX One/ XBOX 360/ PC

Microsoft:Xbox Series X|S controller (wired use, V1.0.13 update)

PDP:ROCK CANDY for XBOX One

PDP:Xbox One Mirror's Edge Catalyst Wired Controller

PDP:PowerA Enhanced Wired Controller for Xbox One

Razer:Atrox (悍猛狂獅)

Razer:Razer Wildcat- Gaming Controller for Xbox One

SCUF:

Professional Gaming Controller For Xbox One
AKISHOP:Akishop PS360+
QANBA:

Q4 Q4RAF Black PS3 & Xbox 360 & PC Joystick (Fightstick)
Not Compatible:
HITBOX:HOTBOX Fighting Stick for Xbox One

POWERA:A Soectra Illurnunated Controller

POWERA:A Fusion Controller for Xbox One

PDP

:Mortal Bombat X Fight Pad for Xbox One and Xbox 360