Overview
PS3/PS4 to SW Controller Adapter lets you use PS3/PS4 controllers on Switch.
You can use your favorite PS3/PS4 controllers on Switch.
It not only saves your budget, but also much easier for you to play.
Connect the converter with your controller, plug into Switch, and enjoy it!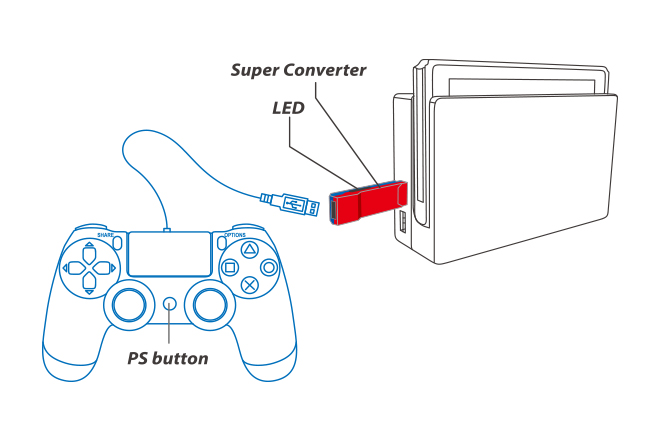 Motion sensor for PS4 controller
Start at 3:30
Features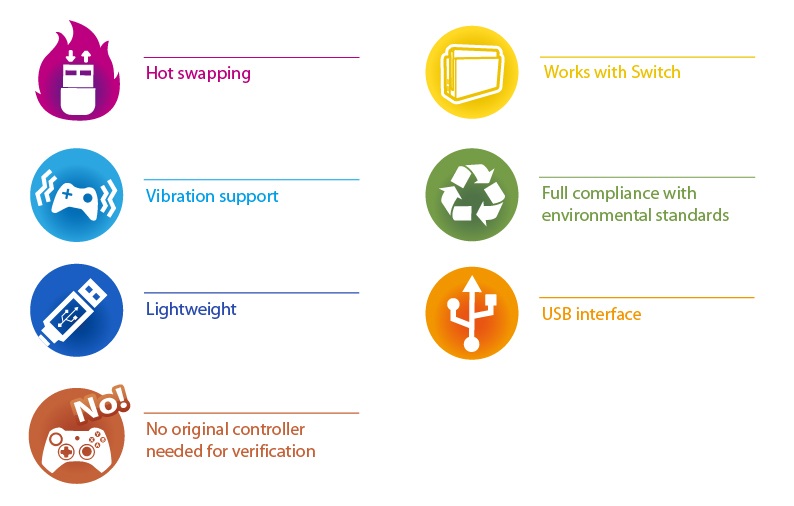 Motion sensor for PS4 controller
Button Configuration
PS3/PS4 to Wii U/Switch Controller Adapter automatically recognizes PS3/PS4 controllers for use on

Switch

.

No toggling is required.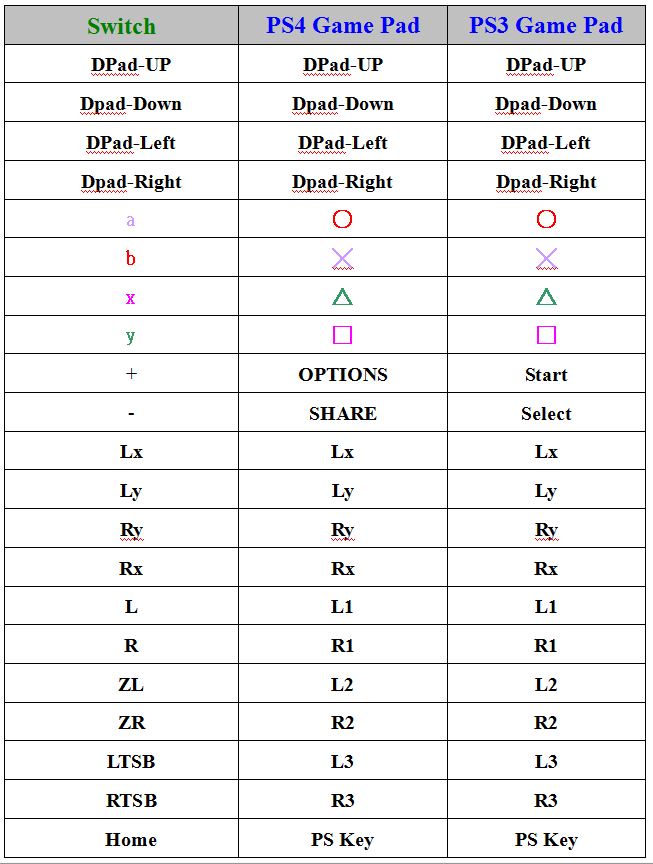 Disclaimer
Each Brook Super Converter can only handle one controller at a time.

The converter is not compatible with PC..

On Switch, go to System Setting

è

Controllers and Sensors, and turn on Pro Controller Wired Communication before you can use it
Compatibility
The list below indicates the controllers/sticks/wheels that have been tested to be compatible or not compatible with the converter.
For those controllers/sticks/wheels which are not listed indicates that they have not been tested yet.
Go to Contact Us for assistance or suggestion.
Compatible:
Akishop:PS360+

Activision:DJ HERO

BD&A:POWER A FUS1ON Tournament Controller for PS3

BD&A:PS3 Wired Controller Air Flo

HORI:Dead or Alive 5 Last Round arcade stick

HORI

:

Real Arcade Pro 4 Kai PS4-015E

HORI:PRO V4

HORI:STEERING CONTROLLER

HORI:Real Arcade Pro.3

HORI:RAP V3-SA

HORI:Real Arcade Pro. 4 Premium VLX

HORI:

Real Arcade Pro 4 Kai PS4-015E

HORI:Fighting Edge

HORI:HORI FIGHTING COMMANDER

HORI:Hori Fighting Edge 刃 for PS3

HORI:PS3 Hori Fighting Min3

HORI:WIRELESS REAL ARCADE PRO.V3

HORI:Wireless FS-3

HORI:PS4-043 Mini Fighting Stick

HORI:PS3 Wired HORI Fighting Commander 3

HORI:PS4 Wired Controller [PS4-025]

HORI:PS3/PS4 Fighting Commander 4

HORI:Pad 4 FPS (BLUE)

HORI:Pad 4 FPS (Black)

HORI:

Real Arcade Pro N Hayabusa for PlayStation®4

HORI:Real Arcade Pro V Hayabusa Silent 2017 Version

(PS3 Mode)

Mayflash

:

Arcade Fighting Stick MF002 for Xbox360 / PS3 / PC

Mayflash

:

Arcade Fighting Stick PC042 for PS2 / PS3 / PC

Mayflash

:

Arcade Fightstick F300 for PS4 /PS3 /XBOX One/ XBOX 360/ PC

QANBA:Drone

QANBA:Q1

QANBA:Q4

QANBA:Dragon

QANBA:Obsidian

KDIT:King Snake Metal Arcade Fight Stick 2013

KDIT:King Snake Metal Arcade Fight Stick 2014

MAKESTICK:PRO For PS3

MadCatz:Arcade FightStick TE2

MadCatz:PS3 Street Fighter IV FightStick

MadCatz:Street Fighter®V FightPad PRO™ for PS4 & PS3

MadCatz:Street Fighter Tournament Edition S

MadCatz:Street Fighter®V Arcade FightStick™ Tournament Edition 2+ for PS4 & PS3

MadCatz:Street Fighter®V Arcade FightStick™ Alpha for PS4 & PS3

SEGA:VIRTUA STICK HIGH GRADE PS3

PDP:Mortal Kombat X Fight Pad for PlayStation 4 and PlayStation 3

SCUF :PROFESSIONAL CONTROLLER FOR PS3

SCUF :PROFESSIONAL CONTROLLER FOR PS4

Joytron:Paewang Revolution

GameStop:Wired Controller

GUITAR HERO:GUITAR

HARMONIX:Rock Bond

Konami:PS3 DANCE MAT

LEVEL UP:PS2/PS3 Wireless Controller

LEVEL UP:PS2/PS3 Wired Controller

Red

Octone:GUITAR HERO

Razer:Panthera Arcade Stick

Saitek:Wired Controller

SONY:Wireless Controller

SRK TOODLE:Toodles Cthulhu Multi-Console PCB

Venom:Venom arcade stick PS4/PS3

Natec

:

Genesis P65 Gamepad for PS3&P

C

Nacon:REVOLUTION Pro Controller

Razer:Raiju Gaming Controller
Not Compatible:
HORI:PS

3 Soulcalibur V Arcade Stick

HORI:Tactical Assault Commander Pro (TAC Pro) KeyPad M1

Thrustmaster:T-Flight Hotas X Flig

ht Stick